Plan for a healthy family
Are you…
Planning a pregnancy?
Early in pregnancy?
Receiving fertility treatment? Interested in your carrier status?
We want to help prospective parents like you to have a healthy child.
THE MOST COMPREHENSIVE CARRIER SCREEN
Determine your risk of passing a genetic disease to your child.
Our genes provide instructions for our bodies to grow and function. We have two copies of every gene. Changes in these genes, called mutations, can combine in our children to cause inherited diseases that impact their health and well-being.
Carriers of a genetic condition have one non-working copy of a gene but usually have no health problems and may not have a family history of that disease. With just a blood or saliva sample, Recombine's CarrierMap screens for over 300 genetic diseases to determine if your carrier status puts you at a higher risk of having a child with one of these conditions. With these answers, you can plan for a healthy family.
ONE TEST ALL ETHNICITIES 300+ DISEASES
The most accurate carrier screen for people of all ethnic backgrounds
CarrierMap screens for over 300 genetic diseases
Common High Impact Conditions are
Cystic Fibrosis
Fragile X Syndrome
Spinal Muscular Atrophy
Sickle-Cell Disease
Alpha and Beta Thalassemia
Tay-Sachs Disease

WE COVER TWO TYPES OF INHERITANCE
CarrierMap screens for diseases with either autosomal recessive or x-linked inheritance
Autosomal Recessive Inheritance
If both partners are carriers of an autosomal recessive genetic disease, your child has a 1 in 4 (25%) chance of having that genetic disease. If only one partner is a carrier, the chance to have an affected child is significantly reduced but not eliminated.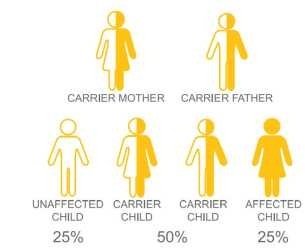 X-Linked Inheritance
If the female partner is a carrier of an X-linked genetic disease, her male child has a 1 in 2 (50%) chance of having that genetic disease.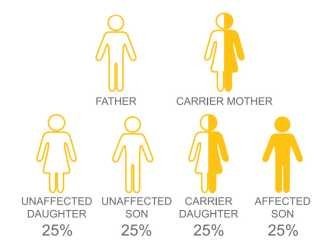 WE HELP YOU UNDERSTAND YOUR RESULTS
We promise to deliver information, guidance, and support throughout the process
Our genetic counselors will help you understand your CarrierMap results in the context of your own medical and family history, empowering you to make informed reproductive and medical decisions.
For more details on this you can download our Booklet or can enquire for more from below buttons